Mr. Manjay Shah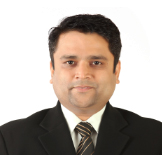 A graduate in Electrical Engineering – assumed the helms of TickerPlant as CEO following the expansion of TickerPlant Management Team.
Prior to assuming current position, he was spearheading 63 moons technologies limited (formerly Financial Technologies (India) Limited) Group's marketing efforts to build a customer-centric organization as a Director, Business Development & was a Board of Director for 63 moons technologies limited. Under his dynamic leadership, 63 moons technologies limited acquired and retained niche clients including India's premier stock exchanges / exchange-subsidiaries and institutional broking houses of repute. He played a key role in introducing 63 moons technologies limited in India's regional exchanges.
Under his guidance, 63 moons technologies limited Group adopted global best practices to achieve and sustain over 80% market share in India for entire product basket. He streamlined Group's Administration Department and created world-class infrastructure for human capital. He developed a marketing team par excellence & with his strategic initiatives ensured that 63 moons technologies limited always maintained Market Leadership.
Mr. Shah is an avid reader. He spends his leisure time reading about the latest global customer trends and understanding their relevance in Indian context.
Mr. Arindam Saha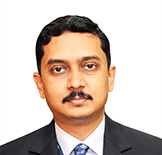 Mr. Arindam Saha is currently the Whole-time Director & Joint CEO of TickerPlant Limited. In a career spanning 20 years, he has worked in various sectors including steel, textile, chamber of commerce, commodity exchange, stock exchanges and media. Before TickerPlant, he worked in organizations like Indian Chamber of Commerce, FIEO (Ministry of Commerce & Industry), The Economic Times, MCX, BSE, NSE, etc. He has performed roles in energy management, business development, strategy, general management and communications. Mr. Saha is an economics graduate and an MBA from the University of Calcutta. Besides, he has done post graduate courses from IISWBM & Indian Statistical Institute - Kolkata. Currently, he is pursuing doctoral program from XLRI, Jamshedpur.